Collection
Tulum Ecoceramics
Perfect for restaurants and banquet halls looking for a distinctive touch and Mexican ambience.
Buy here
Edición Limitada
Sets para Navidad
¡Que tus cenas estén llenas de delicias y tu vajilla sea un reflejo encantador de la festividad que impregna el aire!
Compra aquí
Edición Limitada
Virgen de Guadalupe
Este plato es un tributo a la venerada figura que ha capturado corazones durante siglos.
Compra aquí
More than 103 years of creating dinnerware for your table
Each of our pieces reflects the love, care, and respect we have for the culinary arts, but above all, each one is designed to accompany you in your most important moments. Thank you for choosing us. Let's continue creating stories around the table.
Colaboración
Anfora Studio x Milpa Gráfica
Doce platos con los que rendimos tributo a la milpa y a la cultura del maíz, con la obra de nueve increíbles artistas gráficos que ilustraron el libro Milpa Gráfica, editado por Mariana Castillo.
Ver colaboración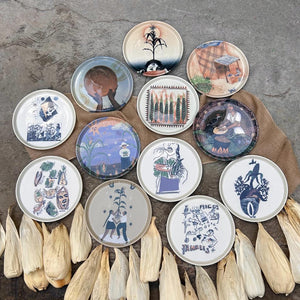 Anfora Products
Explore all our product options, we have shipments throughout the republic
Let customers speak for us
Anfora Catalog 2023
Backed by more than 100 years of experience, we have developed the best vitreous clay products for your table.
Download the catalog